Designed Creative Thinking Workshops
---
CORPORATE WORKSHOPS
Corporate workshops are designed to enable individual companies to integrate their specific problems or challenges into the workshop curriculum.
METACOGNITIVE THINKING
Metacognitive Thinking training is partially based on the research and creative thinking methods and ideas developed by Dr. Edward de Bono which are designed to influence perception by offering alternative thinking models that can open the mind to new insights, ideas, and methods that produce creativity and innovation.
Metacognitive thinking is also designed to break established perceptions by also challenging established mindsets that fail to produce new insights, new ideas, and new ways of looking at a problem or situation. The goal is to bring about a visual transformation which will lead to new visual insights with new perceptions of a situation as opposed to routine word associations. Now the participants learn to focus on multiple visual shapes and designs. These visual exercises allow them to visually rethink or redefine a problem or decision. Such deliberate mental processing stimulates the mind to rethink previous perceptions and thinking. The ability to recognize new patterns increases understanding of what is under consideration. This skill is the most powerful asset in our mental arsenal. It produces new information, ideas and new associations not previously possible. Some of the great inventors, artists, scientists intentionally used these visual exercises to free their thinking from the established perceptions and thinking of their time.
Program Objectives:
Escape from established thinking routines
Develop the ability to recognize new visual design patterns in living nature that are often ignored
Extract these new design patterns, so as to apply them to produce new visual perceptions
Organize new visual images and choose the best in order to rethink the problem, decision, situation
Generate visual thinking with new ideas, solutions,
People Will Learn How: to think visually beyond words, to use visual designs to spark creativity by recreating new perceptions, to harvest new ideas and develop methods to change current ways of thinking, to break through with creative insights and concepts that will lead to creativity and innovation.
Who Should Attend:
All individuals who wish to incorporate this powerful brain mechanism known as Pattern Recognition which as a new perceptual skill will produce remarkable results in developing new products,services, as well as a new culture of creativity.
---
LATERAL THINKING

Lateral Thinking is designed to break established perceptions by challenging existing mindsets that filter out new insights and ideas. The goal is to provoke the mind to view a problem or a situation by associating different thinking strategies which help free the thinking to consider different possibilities, probabilities, solutions not considered This novel method of thinking has proven to produce creative and innovative outcomes.
LATERAL THINKING TWO-DAY WORKSHOP
Two intense days will help you turn your key people into valuable problem solvers by teaching them Lateral Thinking. If you need innovation, quality, creativity, and productivity, you NEED Lateral Thinking workshops.
Program Objectives
Break loose from established thinking patterns.
Develop powerful techniques for generating new ideas.
Recognize and develop the value of other people's ideas.
Never again draw a blank when asked that they think.
People Will Learn How To: * Think outside the box. * Bring thinking into sharp focus. * Create new and practical ideas. * Spark creative thinking by using random word inputs and objects. * Constructively challenge your organization's current way of thinking. * Harvest valuable ideas and tailor them into usable solutions. * Learn how to be creative on demand. * Develop individual creativity to find alternative solutions.
WHO SHOULD ATTEND?
All key people within your organization that are faced with running departments and coming up with ideas to give your company a competitive advantage, lower costs, or improved services.
This includes: Senior management, marketing, advertising, promoting, sales, quality control, shipping, manufacturing, HR, R&D, new products, product extensions, PR, purchasing and administrating staff. The one and two-day workshop are restricted to 25 people. This restriction is required to provide hands-on interaction and problem solving of the highest level.
Many companies have participated in our Lateral Thinking workshops, including: IBM, Computer Science Corp, Globe and Mail, The Times of London, Motorola, Rockwell, AT&T, Myers Squibb, Young and Rubican, Ralston Purina, DuPoint, Albermarie Corp, and Monsanto.
---
SIX HAT THINKING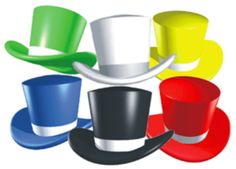 The Six Thinking Hats strategy is designed to develop parallel thinking amongst participants using each of the Six different Colored Hats for a short period of time so that everyone mental focus responds to a specific color that demands a group verbal response. This creative method prevents adversarial thinking and continuous wasteful talk that never leads to thinking necessary for solutions.
White: Information
Red: Hunches & Intuition
Yellow: Values & Beliefs
Black: Difficulties & Dangers
Green: New Idea
Blue: Managing Thinking
In just one intense day of training, you'll be able to replace those long, drawn-out, unproductive meetings with sessions that will provide real answers to the problems you need to solve.
Your managers will become involved in focused, disciplined, and parallel thinking that will enable them to explore issues, solve problems, make decisions, and design new concepts and procedures as never before. Make the best use of available information. Replace egos and adversarial conflicts. Strengthen proposals and construct better alternatives. Cut meeting time in half.
The Six Thinking Hats is a communication system devised by Dr. Edward de Bono to apply a full range of creative, intuitive, strategic, and critical thinking to business issues. It involves your key people in focused, disciplined, parallel thinking to explore issues, solve problems, make decisions, and design new concepts and procedures. The powerful simplicity of Six Thinking Hats will equip them with a solid, practical method for changing the way your people communicate in meetings, provide feedback, and get them to work in teams.
The Hat is a metaphor used for the dimension of thinking that the thinker intends to use at any moment in time. Thinkers put on or take off these hats to indicate the type of thinking being called for at the time.
Companies using Six Thinking Hats include: Texas Utilities, Prudential, DuPoint, IBM, J.P. Morgan, AT&T, Rubbermaid, Intel, Social Security Administration, Avon, Air National Guard, and United Health Care Corp, Inc.
---
TEACHER TRAINING WORKSHOP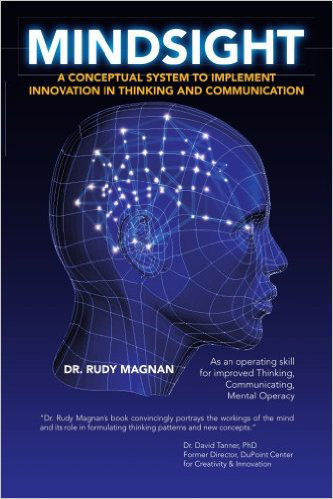 MINDSIGHT THINKING
Mindsight was conceived as conceptual system to raise our operating intelligence beyond the fixed notions that limits our mental potential and keep us in the same routine of thinking.
Mindsight discusses this problem and proposes a design system of thinking that involves a series of skills and strategies to improve the quality of our thinking as identified in the CORT Thinking Skills program developed by Dr. Edward de Bono. Furthermore, it offers a unique methodology of communication to supplement language through the use of graphic representations that transcend and transform our understanding of information.
KEY GOAL S AND CONCEPS 'IN MINDSIGHT THINKING'
Gathering information— the goal in this learning phase is having students use specific thinking (AF, APC) skills to increase their perceptual understanding of the content in the lesson by raising questions regarding other factors that may not be obvious to the students. Each class is organized in different groups. They discuss what the teacher presents as an idea or information. Then teacher writes on the board "Let's consider all the factors that not be obvious at first." "Write down in your group what factors that often are not considered."
Challenging the information (PMI AGO) presented in order to better articulate what was discussed in order to verify if this information is relevant to the learning under consideration or to confirm that additional information is necessary by the students and by the teacher considering the aim of the lesson. "What is the important new information that is relevant and what is not."
Harvesting the new information (OPV FIP)using additional questioning by seeking qualify ideas that are relevant and meaningful with respect to the content presented and discussed. This phase allows the teacher and the students to articulate and identify the best information presented by everyone. "What kinds of conclusions can we make as result of our discussion that our 'our information gathered can support?"
---
MINDSIGHT THINKING CONCEPTS AND METHODS
Warning: This seminar may change the way you think about how students learn!

Useful Information that will help your students:
Improve Understanding
Challenge What is Presented
Become Productive Learners
Improve the quality of Thinking
Powerful Information that will help you:
Promote clarity and Relevancy
Help Students Become Idea Generators
Think critically and Creatively
Increase Verbal Interaction
"Harvest" Quality Ideas/Concepts
Who Should Attend: Administrators, teachers, students, parents, Board of Education Officials, Elected Officials.
QUESTIONS OR COMMENTS? GET IN TOUCH:
Dr. Rudy Magnan
(917) 402-6359
MaxThink4@yahoo.com
http://facebook.com/R.MagnanConsultinginc

Contact Us
---